FC Barcelona - Sevilla FC (DATE UNKNOWN)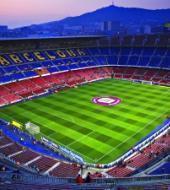 Book your tickets online to make sure you can cheer for FC Barcelona!

What are the advantages of booking online?
You don´t have to take care of complex booking processes!
Don´t trust the sellers outside the stadium. Make your booking online so you can be sure to visit the match!
You are sure you have seats when you visit FC Barcelona!
Great and affordable seats behind the goals which are located from Gol 1 to Gol 3 (Guaranteed no tickets at Gol 4, which are the last rows).




How does it work?


The pick-up location is in the city centre of Barcelona (near Placa de Catalunya). For more details check the voucher that you will receive.
The tickets will be ready for you to pick-up under your name. The office is open from Friday – Sunday for the pick-up between 14.00h and 20.00h. During Champions League matches the pick-up is at the same day of the match between 13.00h and 18.00h.


Tickets includes transport to Camp Nou (included in the price 24 hours bike rental)

The Camp Nou is a stadium with a large capacity (100,000 visitors can visit the matches) in the middle of a neighborhood. Therefore it is almost impossible to get to the stadium (or back to your hotel) with a taxi or metro.

In your reservation for the football match of FC Barcelona there is a bike included which you can use for 24 hours from the moment you pick-up the tickets. It is not obligatory to use the bike.

The route to the stadium is approximately 20 minutes. When you pick-up the tickets at the bike rental company you will get a printed handout of the route to Camp Nou.

We recommend to use the bike because it is impossible to get to Camp Nou (or back to your hotel) by metro, train, bus or taxi. It is not obligatory to use the bike!

What more do you need to know?


The price includes administration costs, fee for pick-up in city centre, reservation costs (seats are reserved months in advance), cancellation insurance (cancellation possible up to 5 days before the match.

All seats are given on Gol 1, 2 or 3 at a central position at the Gol Nord Tribune. We can´t give you the exact seat numbers before your pick-up but we guarantee great seats!
It is not possible to switch or change seat numbers that are reserved in your name.
It is not possible to cancel or reimburse the order 5 days before the match.
Two tickets are always guaranteed next to each other.
Tickets up to 6 tickets are seated together (for example 3 seats in row 1, behind row 1 at row 2 again 3 seats). It is not guaranteed that orders for more than 2 persons will always sit together. Orders for 2 always sit together and orders for 3 will always sit close (can be that one person sits behind 2 persons).
Sometimes the Spanish Football association changes the date of the match to a day later or before. We can´t be held responsible for changes in your airplane tickets or hotel reservations. If a match is postponed (due to bad weather etc.), the tickets will still be valid for the new date. We always recommend you purchase travel insurance in case you require a date change/ cancellation of your flight and/or hotel reservations.

Please note:
In case of group reservations please contact us to check the availability of the seats next to each other: info@barcelonafootballtickets.es